Hello Everyone! My weekend started yesterday!! I hope everyone has a GREAT 4th of July weekend. One year ago my boyfriend officially asked me to be his girlfriend. He even bought me flowers! I came up for the 4th weekend to go camping with his family. So not only was I meeting his family for the first time, but I was camping with his family... for 2 days. To me, we started dating in May... so it took him 3 months to finally "officially" ask me out! I was starting to wonder if he was ever going to ask me. So... thankfully he asked me and we had a great time camping. His family was sooo nice and made me feel welcomed the second I got there. And man, they know how to cook while camping. They go all out! His grandpa made homemade chicken strips in the deep-fryer... with pancake mix!
I sort of flopped last year on what to bring for food. So I need some help..... I found a few recipes a few days ago. Below are the 2 I found.
Beer Cheese Pretzel Dip... That will be a hit right?!!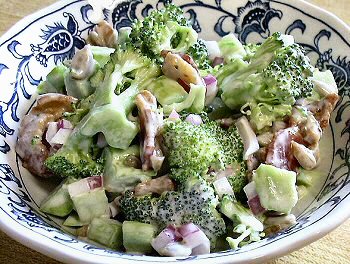 I loooooove this broccoli salad.
Ok that is all I have. I was thinking about making potato salad because
I feel we should have it with our "grill out" food.
But Im not sure I really want to make it.
So..... Let's see if we can find any fun red, white and blue ideas....
Yum that looks easy! And it's red, white and blue!
OOOOOO Cheesecake!!
These are really cute!
Wow! That looks fancy!
This one is a Martha Stewart. Can you tell??!!! :)
Ok so apparently I'm leaning towards bringing a dessert too!
Have a great weekend! I'm off to the pool!
-Alicia